Council is planning upgrades at Sylvan Beach, Bellara. The upgrades will replace aging infrastructure and provide new facilities for everyone to enjoy. We welcome your feedback on our draft plans. The draft plans are available for comment from 12 September to 21 October 2022.
This project is proudly funded by the Queensland Government's South East Queensland Community Stimulus Program (SEQCSP) in association with Moreton Bay Regional Council.
Planned improvements
The draft Bellara Foreshore masterplan includes:

new and upgraded playgrounds, lighting, picnic areas and boardwalks
more seating and shaded areas
better accessibility throughout the foreshore area
safer pedestrian access around roads and car parks
new and upgraded toilet blocks
new storage facilities for water sports groups and
a future event space with new facilities for markets and other activities.
The plan includes more trees and other native plants. We will protect existing vegetation as much as possible, but a few plants may be impacted by upgrades.
Get involved and tell us what you think
Register for project updates to stay informed - just click the 'follow' button at the top of this page
Drop in to one of our pop-up events

Saturday 1 October 9.00am - 2.00pm at the Munch Markets
Sunday 9 October 10.00am - 1.00pm at Pirate Park
Wednesday 12 October 3.00 - 6.00pm at Crest Park near the Volunteer Marine Rescue

Visit the Bribie Island Library to view the plans or for assistance in providing feedback.
Have a look at the draft plan illustrations on this page.
Make your comments directly on the interactive map on this page. Simply click on 'add pin' then click on the map where you want to add your comment.
View the draft masterplans
Tell us what you think
Take a look at the draft Bellara Foreshore Upgrade plans illustrated here. Use the interactive map on the next tab to tell us what you think. Simply click on 'add pin' then click on the map where you want to add your comment.
Draft masterplan illustrations
Sunset Pk Lookout
Sylvan Bch Pathway
Pirate Pk Lookout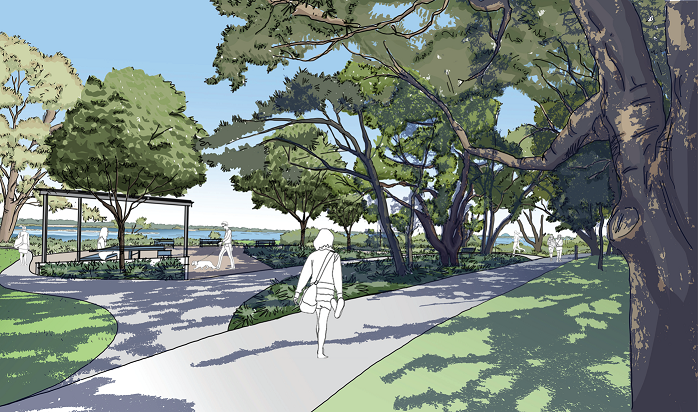 Interactive map for comments
Previous engagement
Council has met with representatives of the Volunteer Marine Rescue, the Mahalo Outrigger Canoe Club, the Marine Cadets, organisers of the Sylvan Beach Munch Markets, the Bribie Island Lions Club and the organisers of the Bribie Classic Boat Regatta to better understand how they use the site and how park upgrades could affect their operations.
We are grateful for the time and information these community volunteers have provided. The project team developed the draft masterplan in a way that will maintain and, where possible, enhance their operations to benefit the whole community. We will ensure the Volunteer Marine Rescue can continue their vital services during construction activity.